OUR PARTNERS
Wine-growing
Specializing in wines from the Languedoc Roussillon region, we have a truly wide range of choice to meet your specific requirements. We supply wines from an area stretching from the Western Pyrenees to the Gard. And we believe that our wine-growing partners are the best representatives of their own terroirs.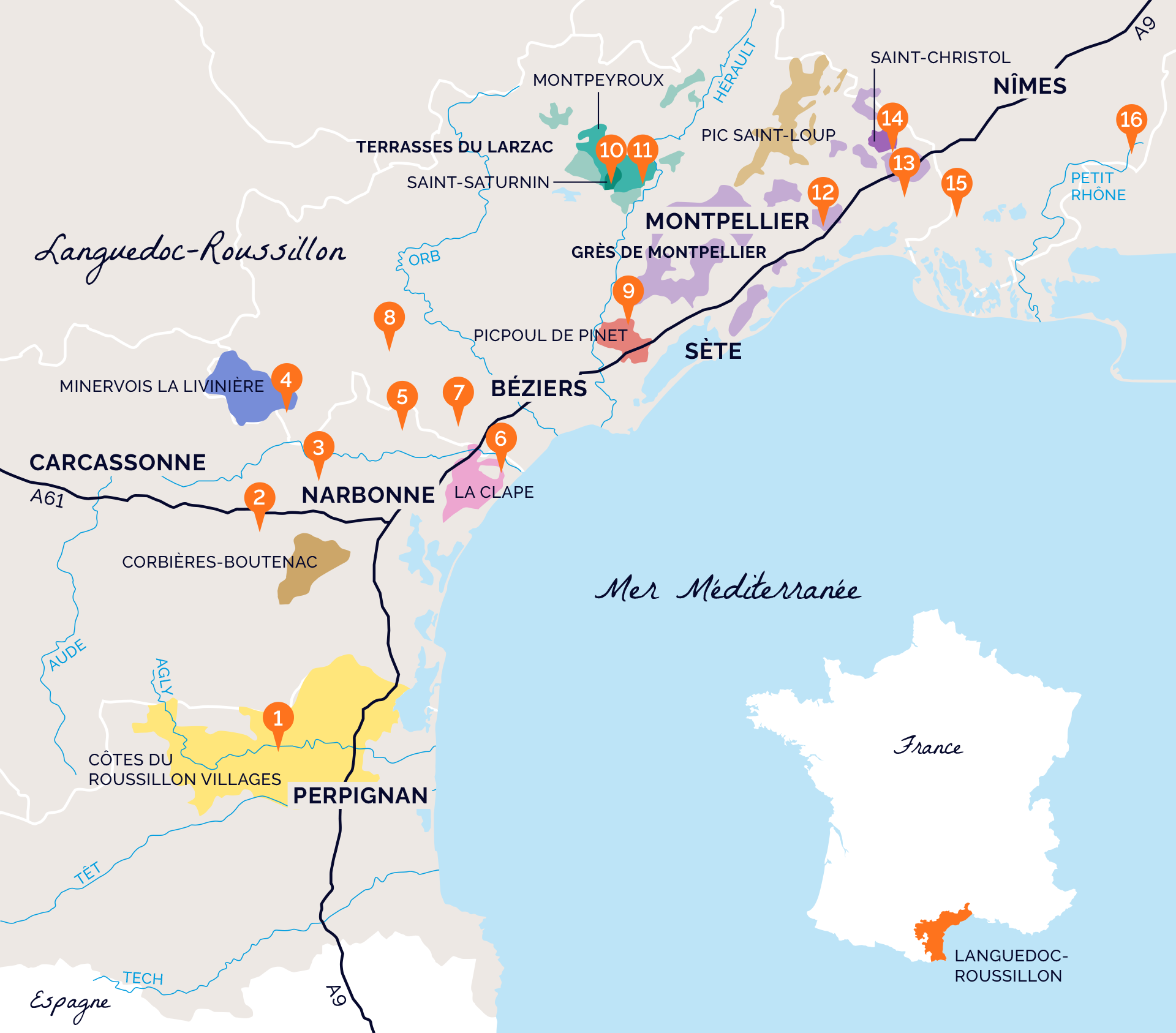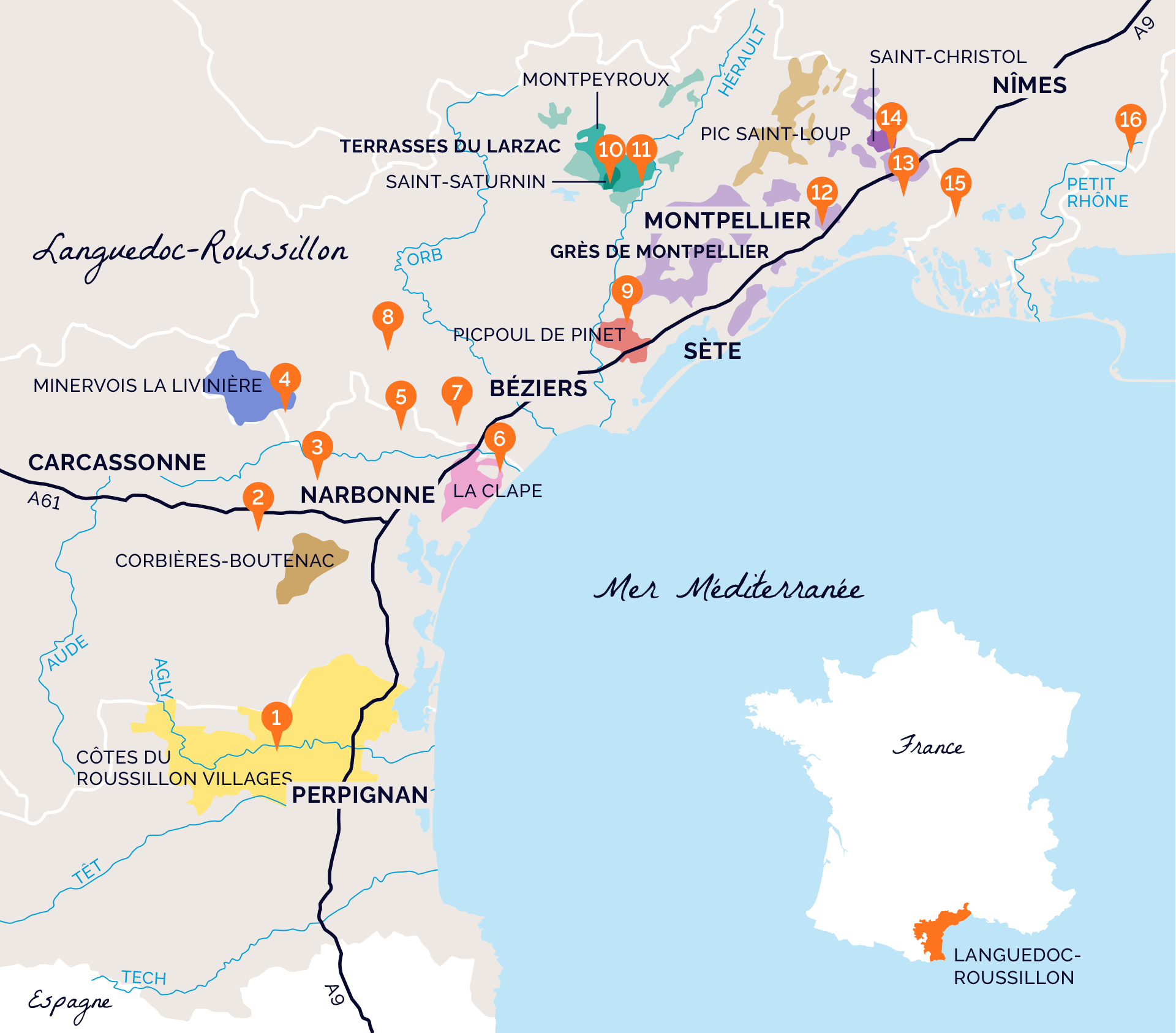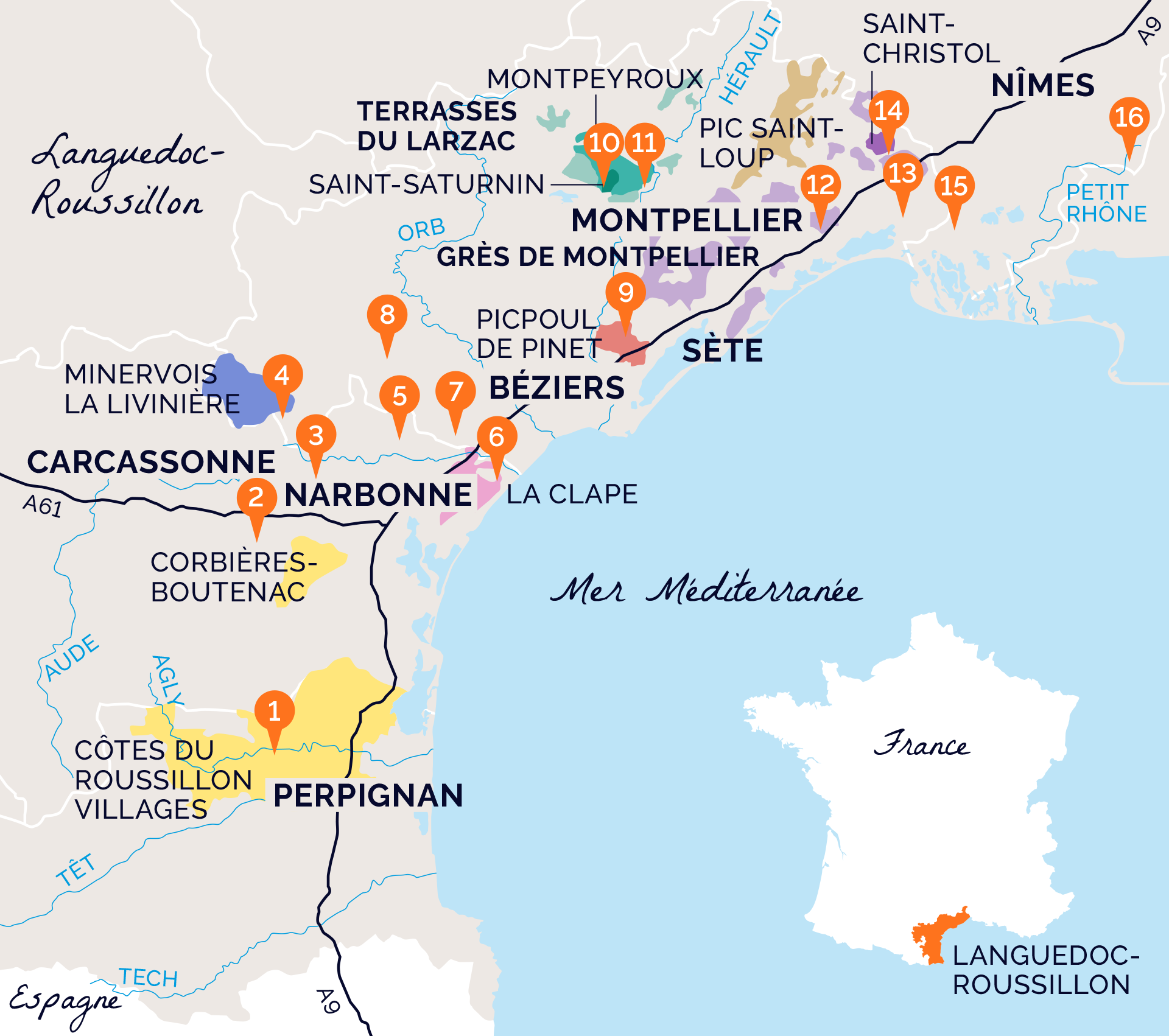 From West to East
2
LES VIGNERONS DE CAMPLONG
5
LES VIGNERONS DU NARBONNAIS
8
CAVE DES VIGNERONS DE SAINT-CHINIAN
11
CASTELBARRY COOPERATIVE ARTISANALE
2
LES VIGNERONS DE CAMPLONG
5
LES VIGNERONS DU NARBONNAIS
8
CAVE DES VIGNERONS DE SAINT-CHINIAN
11
CASTELBARRY COOPERATIVE ARTISANALE
LES VIGNERONS DE CAMPLONG

LES VIGNERONS DU NARBONNAIS

CAVE DES VIGNERONS DE SAINT-CHINIAN

CASTELBARRY COOPERATIVE ARTISANALE
TO DISCOVER

FAMILLE BOUSQUET

TO DISCOVER

LES VIGNERONS DE CAMPLONG

TO DISCOVER

FAMILLE FABRE

TO DISCOVER

FAMILLE GASTOU

TO DISCOVER

LES VIGNERONS DU NARBONNAIS

TO DISCOVER

CHATEAU MIRE L'ETANG

TO DISCOVER

DOMAINE REGISMONT

TO DISCOVER

CAVE DES VIGNERONS DE SAINT-CHINIAN

TO DISCOVER

LA CAVE DE MONTAGNAC

TO DISCOVER

CAVE DE FONJOYA 

TO DISCOVER

CASTELBARRY COOPERATIVE ARTISANALE

TO DISCOVER

FAMILLE BISCAYE

TO DISCOVER

LE CELLIER DU PIC

TO DISCOVER

DOMAINE GUINAND

TO DISCOVER

DOMAINE DE TAVERNEL

TO DISCOVER

LE DOMAINE DU VISTRE
FAMILLE BOUSQUET
In 1986, in Estagel in the heart of the Roussillon area, André and Franck Bousquet established a private wine cellar. A veritable mosaic of terroirs, the Roussillon area provided an opportunity to develop exceptional wines. Following André's retirement, Franck's son Benoît joined the family adventure in 2015.

Running 20 hectares under the Terra Vitis label, they work together towards being more respectful of nature, and in 2020 they obtained HVE (High Environmental Value) certification. The wines they develop are highly diverse and representative of their terroirs (Côtes du Roussillon Villages, IGP Côtes Catalanes, Vins doux naturels). 

For over twenty years, Caves Languedoc Roussillon have accompanied the Bousquet family in selling their wines. Chloé, Nicolas and Benoît are continuing this partnership together, as they all want to continue building on it for future generations.
LES VIGNERONS DE CAMPLONG
The Cave des Vignerons de Camplong was founded in 1932. It gathers together the expertise of some 30 members, who for more than 50 years, have been working permanently to develop and produce characteristic wines that tell the story of the terroir. Thanks to the quality of these bottled wines, the Vignerons de Camplong wine cooperative is one of the smallest remaining independent cellars in the Aude region, and they are rightly proud of this.

Located at the foot of the Alaric Mountain, on an exceptional Lagrasse terroir, the vines are rooted in calcareous-clay soils among the garrigue and the olive trees, and provide a wide range of grape varieties. 90% of the vines are classified as AOP Corbières, and some of them are over 50 years old, drawing their character form the typical Terra Rosssa Mediterranean soil.

Looking resolutely to the future, the Cave des Vignerons de Camplong will very soon gain HVE (High Environmental Value) level 3 certification.

Partners with Caves Languedoc Roussillon since 1988, they have developed a sales network in France and for export. Owing to this close relationship, they are able to regularly initiate successful new product launches.
FAMILLE FABRE
Independent wine-growers since 1605, the Fabre family have been passionate about wines for 14 generations. They own 5 châteaux and estates in the Languedoc Region, where their vineyards are run with the greatest respect for the earth, thereby providing high quality wines that are characteristic of their terroirs.

In 1982, Louis Fabre took over the family business following in the footsteps of his father André. He decided to focus on production, like other wine-growers in the region. During an alumni reunion of the Montpellier agronomy school, he met Olivier Robin, who, with his friend Paul Chebille, was setting up a wine selling structure: Caves Languedoc Roussillon. 
Louis Fabre spent most of his time working on production, but also wanted to develop a sales network, and so their meeting naturally led to a partnership!
In 1991, Louis Fabre chose to switch to organic methods, and CLR accompanied him by valuing this choice with their clients.

Now, in 2021, we are celebrating 34 years of partnership!
The next generation has joined us, with Clémence, Louis-Jacques, Jeanne and Paule in the Fabre family, and Chloé and Nicolas Chebille, who have taken over CLR, but kept their client relationships intact.
FAMILLE GASTOU
A family-owned estate since 2001, the Clos des Roques celebrates its 20th anniversary in September 2021, which is also an opportunity to celebrate the collaboration between Christian, Claude, Sophie and Laurent Gastou. Their vines, located in the Cessera district, lie at the heart of the La Livinière 'village' designation, as well as the AOP Minervois.

The Gastou family work with friend and oenologist Claude Serra to create the estate's wines, whose strong character and authenticity reflect their natural heritage.

The Clos des Roques / Caves Languedoc Roussillon partnership began in 2015. Together they decided to sell organically produced wines, which were certified as such in 2008.

LES VIGNERONS DU NARBONNAIS
Created in 1935, the Cave des Vignerons du Narbonnais gathers all its co-operators together through committed and sustainable wine-growing. Established across a wide variety of soils, the vineyard gives of its best under the warm Mediterranean sun.

A Caves Languedoc Roussillon partner since 2004, their truly complementary skill sets enabled them to construct the product profiles of the future. The "Maître de Chais" (cellar master), Fabien André, puts all his skills to work, and thanks to the range of grape varieties at his disposal, he develops high-quality wines alongside CLR. Following serious wine-tasting sessions together, the wine-blending can be adjusted depending on the target markets and their consumer expectations. The Vignerons du Narbonnais are proud to provide this synergy, symbolizing quality from one year to the next, in their bottles.
CHATEAU MIRE L'ETANG
Château Mire l'Étang, which has been in the Chamayrac family since 1972, today comprises roughly 50 hectares of vines, including more than 40 of AOP La Clape. On the wonderful Massif de la Clape site, classified since 1971, wine-growers have established themselves on narrow coombes, small closed valleys and gullied terraces. Certified Terra Vitis since 2003, Château Mire l'Étang was also one of the regional wine-makers to volunteer for the 2018 'Plan Ecophyto.'

The collaboration between Château Mire l'Étang and Caves Languedoc Roussillon goes back to 1988. At the time, château owners Pierre and Philippe Chamayrac, decided to entrust CLR with the sales of a large part of their AOP wine production.

The collaboration proved to be highly effective, as within a few years, Caves Languedoc Roussillon was selling more than half of Château Mire L'Étang's production, to numerous export clients as well as in France.

Since the introduction of the AOP La Clape label in 2015, CLR has focussed on selling less volume, concentrating instead on the production of very high-end Château Mire L'Étang wines.
DOMAINE REGISMONT
A family property for four generations, the Domaine de Régismont is situated at the edge of the Via Domitia close to Nissan les Ensérune, and has been using organic farming methods since 2009. The son and grandson of wine-growers, Bernard Paillet is known for his technical skills, and works with his wife to develop high-quality wines.

In 2004, Domaine de Régismont and Caves Languedoc Roussillon signed a partnership agreement. These seventeen years of added value have enabled the estate to improve the brilliant work carried out in the vines and in the cellar, and to develop wine sales in France and internationally. Mr Paillet and CLR work in synergy on wine flavours as well as packaging, in order to meet the end consumer's expectations as closely as possible. Transitioning to organic farming twelve years ago was a shared desire, in order to provide wines that respect the environment.

Le Domaine de Régismont describes the Caves Languedoc Roussillon as a young, dynamic, united team that is ready to listen, and highly professional.
CAVE DES VIGNERONS DE SAINT-CHINIAN
Historically important for this designation, the Cave de Saint-Chinian is a key showcase for local wine production. Created in 1937, it now brings together a great number of wine-growers and strives to combine modern elements with traditional expertise through various innovative initiatives such as "l'Art en Cave."

Resolutely looking to the future, and concerned with dynamic development, the Cave de Saint-Chinian has been classified ISO 9001 for twenty years, and certified HVE (High Environmental Value) since 2019.

The partnership with Caves Languedoc Roussillon began in 2009, thereby enabling the Saint-Chinian wine-growers' cooperative to develop internationally. In spite of the economic and health context, the cellar and CLR are looking to the future, and they continue to work hand-in-hand to promote the expertise of the Saint-Chinian artisan wine-growers.
LA CAVE DE MONTAGNAC
The Vignerons Montagnac Domitienne is first of all a beautiful human adventure, and a story of men and women! It is a unique development model that serves a region and its economic players. Located between land and sea, the terroir stretches from the edges of the Thau lake to the first foothills of the Massif Central.

The cooperative wine-growers deliver the fruits of their work each year to the two, highly modernised wine cellars of the wine cooperative. They are responsible for the quality of their wines and play an active role in life of their company. Together they are committed to CSR, and their initiatives take a long-term approach to economic, societal and environmental factors.

Partners with Caves Languedoc Roussillon since 2007, together they have successfully raised the profile of, in particular, the AOP Picpoul de Pinet internationally.
CAVE DE FONJOYA 
Fonjoya stemmed from a merger between the St Félix-St Jean and the St Saturnin de Lucian wine cooperatives, which were established in the first half of the 20th century. Armed with their respective histories they united over a shared terroir.

Set in the heart of the Languedoc designation, the vineyard stretches across an exceptionally rich and varied terroir benefitting from climate conditions that are ideal for developing great wines. This historical terroir is in the midst of gaining a Saint Saturnin 'Cru' designation, alongside the younger, upcoming "Terrasses du Larzac" designation.

Looking resolutely to the future, Fonjoya is working towards greater sustainability; solidarity with co-operators, supporting the young generation in launching their activities, respecting nature, and using responsible practices certified by labels.

Partners dating back to 1984, Caves Languedoc Roussillon has accompanied Fonjoya in its international growth and the development of its ranges, making it a leader today in designations such as AOP Saint Saturnin and IGP Mont Baudile.
CASTELBARRY COOPERATIVE ARTISANALE
Created in 1950 in Montpeyroux, the traditional Castelbarry Cooperative is now a model of sustainable wine-growing. In 2017, it was certified "Vignerons Engagés" and "Engagés RSE exemplary level" based on ISO 26000 for socially responsible wine-makers. This enables them to make a good living from their profession, to adapt their vine cultivation methods in order to respect nature and climate change, and also help support local employment.

Located on a classified terroir that produces Montpeyroux, Terrasses du Larzac and Languedoc AOP (PDO) wines, Castelbarry works hard to produce wines with character.

Partnering with Caves Languedoc Roussillon since 1998 has helped increase the notion of rigour, excellence and performance in selling these wines, for a partnership that goes hand-in-hand with sustainable development!
FAMILLE BISCAYE
The Domaine Biscaye, also called Clos l'Armet, is a unique, authentic place on the outskirts of Montpellier. The property has been in the Biscaye family since 1924, and Emmanuel, at the helm for 20 years, is the 4th generation to steer the company after his grandfather passed away. Still a student when he inherited it, he endeavoured to replant the entire vineyard. At the same time, he modernised the wine-making tools in keeping with his change of direction. His main objective was to transition from a rationale of quantity to one of quality, which he achieved with his first bottling in 2010.

To accompany their development in France and Internationally, the Domaine Biscaye partnered with Caves Languedoc Roussillon in 2013, thereby benefitting from their sales expertise. Emmanuel and the Chebille family share the same attitude to the future of wine-making in the region, in terms of ecological and economic issues.
Armed with the wisdom of their conversations, and concerned with respecting this unique place in a peri-urban zone as much as possible, Emmanuel took a new step in developing the estate. In summer 2020, he began to convert to organic farming.
In this warm, dry Mediterranean climate, the sandy-silt soil has been completely planted with grass since 2019, with the aim of bringing it back to life. A respected environment makes for appreciated wines, and these enjoyable wines, meant to be accessible to everyone, make sense to Emmanuel.
LE CELLIER DU PIC
Since 2011, Caves Languedoc Roussillon and Le Cellier du Pic have been sharing their expertise, which was handed down over the generations almost identically in the two companies. Paul passed the baton to his children at CLR, while Bruno handed over to Thomas at Le Cellier du Pic.

The faces may have changed, but the high standards and the shared idea of what wine should be is trans-generational. Le Cellier du Pic can therefore grow with Chloé and Nicolas, building on the foundations established by their elders.

There are sometimes animated discussions over wine tastings and direction, but, like a long-married couple, it is obvious that each of them respects, and has always respected the other's opinion, convinced that together they are working towards mutual growth.

Through their work on the appellations, from Pic Saint Loup to Languedoc, Le Cellier du Pic strives to supply Caves Languedoc Roussillon with the best wines, so that together, they can continue to showcase their terroirs internationally.
DOMAINE GUINAND
Present since 1816 in the Saint-Christol district, the Guinand family now grows 70 hectares of vines, producing white, rosé and red wines under the Languedoc Saint-Christol designation.

Their expertise in cultivation has been handed down over eight generations. In 1993, the four Guinand brothers (Alain, Claude, Serge and Pierre) decided to leave the wine cooperative and put their own name on their bottles. A semi-underground wine cellar was built in the centre of the village, next to the family home, which dates back to the 16th century.

By 1995, a solid partnership had been set up with Caves Languedoc Roussillon, which enabled the wine-growing family to concentrate on a local clientele, becoming forerunners in wine tourism, while also being represented at an international level.

In 2017, Pierre's children, Fabien and Sophie, took over the business where their predecessors left off. They are working more closely with CLR to provide higher quality wines in order to promote the Domaine Guinand brand. In addition to transmitting their expertise, they are also sharing a life culture and the richness of a historical terroir, originally developed by the Saint-Jean de Jérusalem order in 1139, which they are keen to promote.

Since 2002, the estate has held the Terra Vitis® label. Committed to sustainable and responsible farming, the Guinand family combines the environmental and economic aspects of the business with a human touch.
LP NATURE
Patrick Guiraud is an oenologist and owner of the family estate, where he has been established since 1989. He was a pioneer in his concern for ecological issues, and began to convert to organic cultivation in 1995. Always looking for innovative solutions to produce more natural wines, the estate today combines modern elements with traditional expertise.

The vines are planted on two estates: the first is on the Aimargues plain, in the Pays D'Oc designation, and the second in is Aigues-Mortes, at the edge of the Mediterranean sea, under the typical name of Sable de Camargue.

In 2011, Mr Guiraud built a new cellar, which is energy autonomous thanks to the presence of 1000m2 of solar panels. Modern wine-making material enables him to produce high-quality wines and to monitor, in minute detail, the different steps needed to develop sulphate-free wines.

Since 2016, Mr Guiraud and Caves Languedoc Roussillon have been working together in a partnership of trust. CLR is responsible for a part of the estate's wine sales, freeing up the LP Nature team to focus on the heart of their profession, which is wine production. Together, Mr Guiraud and CLR are developing wines that are increasingly respectful of nature and mankind.
DOMAINE DE TAVERNEL
Domaine de Tavernel, a family-owned property for 96 years, is situated in the Beaucaire district, and has been farmed organically by Denise Compagne since 1987. A forerunner in organic farming, the estate has become renowned over the years for their specialized skills and specific expertise.

Tavernel and Caves Languedoc Roussillon started their partnership in 1992, as the estate was taking its first timid steps in the wine market. After visiting the estate and tasting the wines, Paul Chebille and Olivier Robin sold their first bottle a year later.

The years of work in tandem with CLR have enabled the business to establish solid foundations, thanks to constant investment both in the vineyard and in the cellars.

In 2014, Chloé and Nicolas took over CLR, and Madame Compagne's son Thomas is now running the Tavernel estate. In the digital era, it is their turn to maintain the human aspect of their relations and to cultivate the trust and respect that have linked Tavernel and CLR for almost 30 years!
LE DOMAINE DU VISTRE
Winegrowers for 6 generations, the Dupret family is based in Vauvert in the Gard, on a property of over 75 hectares. As a family, father and sons make wines in the purest tradition with respect for the environment.

Committed to their heritage and their land, they define themselves as "Artisans of animal and plant life". They are also a member of the Terre Languedoc-Roussillon perimeter, HVE 3 certified since 2019 and part of the Camargue Biosphere.