Caves Languedoc Roussillon has had roots in the region for over 35 years. The story began in 1984, when Paul Chebille and Olivier Robin realised, they wanted to get involved with the wine-producing scene. Now run by Chloé & Nicolas Chebille, this family company remains committed to supporting the local wine-growing economy and raising its profile internationally.
Two men, two skill sets, and one shared dream.
Wine-growing in the Languedoc region underwent a profound economic and structural transformation in the early 1980s. Les Caves Languedoc Roussillon, created by Paul Chebille and Olivier Robin as a unique model in 1984, stems from this period of crisis and the impact it had.
Promoting wine-growing along with its traditions, environment and the people involved, became a leitmotif for these two enthusiasts. Their complementary skill sets and their long-term vision enabled them to make Caves Languedoc Roussillon into one of the first organizations for independent wine-makers and cooperative cellars in the South of France.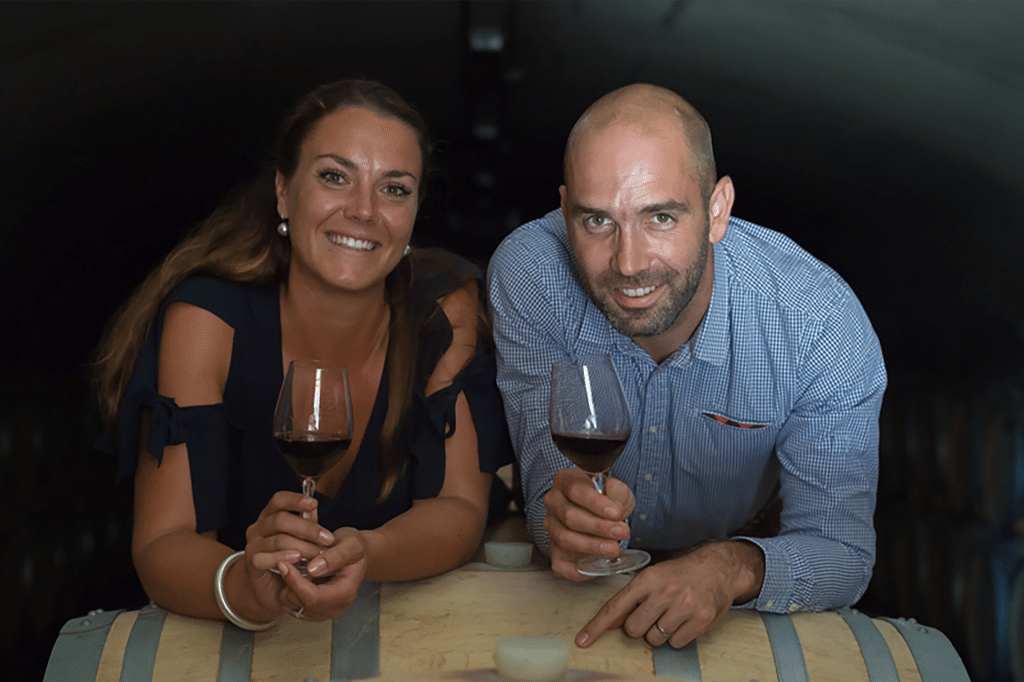 Each partnership is based on trust and respect,
and each wine creates a link between a terroir,
a story and its traditions.
Through this innovative economic model, they provided a link between wine-maker and consumer, and gradually, over the years, they earned the trust of the biggest players in all the distribution networks.
Family dynamics
Chloé and Nicolas have always been entrepreneurs at heart. Having grown up with "CLR" throughout their childhood, they both decided to join the family company while they were studying at university. After graduating from business school, Nicolas joined his father in 2007, and expanded the company by opening new export markets, in Asia for example.
From 2014, he became sole director of the company, until he was joined by his sister Chloé in 2017. With a similar university background, and a specialization in marketing, she brought a new dynamic to the company. Armed with these complementary skills, Chloé and Nicolas work hand in hand to redefine the company.

Our Team
In the South of France at our Montpellier office, our team is motivated to provide quality service every day.
Purchasing and production manager

AT CLR SINCE 1997

Fabien

Sales Manager France, Switzerland, Spain, French Polynesia, Reunion & New Caledonia

AT CLR SINCE 1998

Marjorie

Accountant

AT CLR SINCE 1997

Thierry

Sales administration for Nicolas Chebille

AT CLR SINCE 2017

Céline

Asia Sales Manager

AT CLR SINCE 2014

Jia

Sales Manager Germany, Scandinavia, Eastern Europe & Japan

AT CLR SINCE 2013

Xavier

Sales Manager Benelux & Australia

AT CLR SINCE 2018 

Jean Brice

Sales administration France / Switzerland

AT CLR SINCE 2023

Céline

Sales administration Germany/Asia

AT CLR SINCE 2019

Xiaolan

Sales Manager UK & Irelande

AT CLR SINCE 2016

Stuart

Graphic designer

AT CLR SINCE 2021

Denis

Communications and Events Manager

AT CLR SINCE 2021

Léa

Sales Manager USA & Canada

AT CLR SINCE 2022

Mickaël

Sales administration Benelux / Australia

AT CLR SINCE 2022

Stecy

Sales administration (work-linked training)

AT CLR SINCE 2022

Emma

Production & Purchasing Assistant

AT CLR SINCE 2023

Wafa
Purchasing and production manager

AT CLR SINCE 1998

Fabien

Sales Manager France, Switzerland, Spain, French Polynesia, Reunion & New Caledonia

AT CLR SINCE 1998

Marjorie

Accountant

AT CLR SINCE 2017

Thierry

Sales administration for Nicolas Chebille

AT CLR SINCE 2017

Céline

Asia Sales Manager

AT CLR SINCE 2013

Jia

Sales Manager Germany, Scandinavia, Eastern Europe & Japan

AT CLR SINCE 2013

Xavier

Sales Manager Benelux & Australia

AT CLR SINCE 2023

Jean Brice

Sales administration France / Switzerland

AT CLR SINCE 2023

Céline

Sales administration Germany/Asia

AT CLR SINCE 2016

Xiaolan

Sales Manager UK & Irelande

AT CLR SINCE 2016

Stuart

Graphic designer

AT CLR SINCE 2021

Denis

Communications and Events Manager

AT CLR SINCE 2021

Léa

Sales Manager USA & Canada

AT CLR SINCE 2022

Mickaël

Sales administration Benelux / Australia

AT CLR SINCE 2022

Stecy

Sales administration (work-linked training)

AT CLR SINCE 2023

Emma

Production & Purchasing Assistant

AT CLR SINCE 2023

Wafa
Purchasing and production manager

AT CLR SINCE 1997

Fabien

Sales Manager France, Switzerland, Spain, French Polynesia, Reunion & New Caledonia

AT CLR SINCE 1998

Marjorie

Accountant

AT CLR SINCE 1997

Thierry

Sales administration for Nicolas Chebille

AT CLR SINCE 2017

Céline

Asia Sales Manager

AT CLR SINCE 2014

Jia

Sales Manager Germany, Scandinavia, Eastern Europe & Japan

AT CLR SINCE 2013

Xavier

Sales Manager Benelux & Australia

AT CLR SINCE 2018 

Jean Brice

Sales administration France / Switzerland

AT CLR SINCE 2023

Céline

Sales administration Germany/Asia

AT CLR SINCE 2019

Xiaolan

Sales Manager UK & Irelande

AT CLR SINCE 2016

Stuart

Graphic designer

AT CLR SINCE 2021

Denis

Communications and Events Manager

AT CLR SINCE 2021

Léa

Sales Manager USA & Canada

AT CLR SINCE 2022

Mickaël

Sales administration Benelux / Australia

AT CLR SINCE 2022

Stecy

Sales administration (work-linked training)

AT CLR SINCE 2022

Emma

Production & Purchasing Assistant

AT CLR SINCE 2023

Wafa